Accessibility: a website for everyone
SUMMARY
Irrespective of how a website is accessed or navigated, what device is used, internet connection, software, language, location, or ability, a website should work for everyone.  Substrakt, digital agency specialising in the cultural sector, talks us through how making a website more accessible naturally results in it being more usable for everyone.
This article covers why accessibility and inclusive design is important, who it affects and how to ensure your website is accessible.
What is accessibility?
The term accessibility is an incredibly broad term encompassing a diverse range of needs and considerations. I'm going to cover some of the specifics when it comes to accessibility and the web, though it's worth noting that this is not an exhaustive list.
"The usability of a product, service, environment or facility by people with the widest range of capabilities."  - ISO 9241-20 Ergonomics of human-system interaction.
The Web Content Accessibility Guidelines (WCAG) is a single shared standard for making web content more accessible. This benefits individuals and organisations around the world.
These guidelines are structured around four principles:
Perceivable: Information and user interface components must be presentable to users in ways they can perceive.
Operable: User interface components and navigation must be operable.
Understandable: Information and the operation of user interface must be understandable.
Robust: Content must be robust enough so that it can be interpreted reliably by a wide variety of user agents, including assistive technologies.
All websites should meet the below requirements. In some countries there is a legal obligation, which I'll cover in further detail later in this article:
ensure HTML markup is structured logically
ensure the use of ARIA states, roles and attributes
provide alternatives to non-text based content through alt-tags
ensure sufficient colour contrasts are used
ensure that colour is not the only means of conveying information
have the ability to easily rectify mistakes
ensure that content is clear, concise and meaningful
Content
Content is information - it is everything your users will see when visiting your website, be it video, imagery or text. Content is what makes the difference between a good website and a great website. It is motivation for users to visit a website in the first place. Content is how we communicate, represent ourselves and engage audiences.
So content should be purposeful, concise and easy to understand.
Making content accessible means
adding alt text to images
including closed captions for video content
using semantic and consistent heading structures
Making content accessible also involves considering the language you are using. Reading Level is one of the success criteria of WCAG mentioned above. You should ensure that writing is well structured and easy to read. Make sure your choice of words is not unnecessarily complicated. According to the Open Society Mental Health Initiative, the concept of Easy to Read cannot be universal. Therefore it is important to know your audience. There are a number of tools that can help with this, such as Readable.
The Web Accessibility Directive (WAD) requirements are largely aligned with the WCAG 2.1 standards. However, the European Accessibility Standard EN 301 549 encompasses more areas than WCAG.
To meet these requirements you need to ensure that:
Your digital services meet level AA WCAG 2.1 as a minimum
Services are Perceivable, Operable, Understandable and Robust
You have published an Accessibility Statement that details how accessible the service is
While the WAD is only applicable to public sector bodies, it's best practice to include an Accessibility Statement on your website detailing how accessible the website is, plans to improve accessibility and how to get in touch. The Central Digital and Data Office have provided a sample accessibility statement that can be used as a starting point.
Who is accessibility for?
In short, accessibility and inclusive design benefits everyone. If your website is not accessible, you are excluding huge swathes of people. By making your website accessible, everybody benefits.
It's important to note that people's access requirements are diverse. User needs for accessing and navigating digital content varies. Indeed, web accessibility covers a broad range of needs, including auditory, cognitive, neurological, physical, speech and visual.
Below I'll talk about some specific groups of users and how accessible design relates to them.
D/deaf and disabled people
One in five people in the UK are registered disabled. The World Health Organisation states that there are more than one billion disabled people worldwide. This is about 15% of the world's population.
The models of disability
There are a few different 'models' of disability and deafness, that represent different attitudes towards disability. Different ideologies. Different ways of thinking and speaking about disability.
Two of the most common models of disability are the social model and the medical model.
The medical model
The medical model views disability as a 'problem'. The 'problem' belongs to an individual.
It suggests that disability is the result of a condition - one that can be cured or managed through diagnosis of said condition. According to this model, people are disabled by their impairments or differences, and that these should be 'fixed' through treatment.
The model does not consider the holistic needs of the person.
The social model
The social model holds that there are systemic barriers in society. Under this model, inequality is introduced through social exclusion. It is the attitudes, barriers and exclusions of society that are disabling. People are not disabled by their bodies, but by the world around us.
Understanding these models helps us to know how to design and build in an inclusive way, ensuring websites are built to work for everyone. You can ensure that your website doesn't introduce barriers or disabling experiences by following the WCAG guidelines outlined earlier. Later in this article I outline ways to audit the accessibility of your website.
An ageing population
As we age we develop age-related impairments related to vision, physical ability and hearing, and these affect how older people use the web.
Age UK have reported that we are an ageing population. There are nearly 12 million people aged 65 and above in the UK of which:
5.4 million people are aged 75+
1.6 million people are aged 85+
Over 500,000 people are aged 90+
By 2030, one in five people in the UK will be aged 65 or over.
This means that a growing part of the population using your website may have difficulty with colour perception, focus and contrast sensitivity. If colour contrasts on your website are too subtle older users may be unable to see, read or engage with your website.
Older people can also experience reduced dexterity, making it difficult to use a mouse or click small targets.
The report, Later In Life in the United Kingdom, details that 1.6 million older people have sight loss. More than 40% of people over 50 years old have hearing loss.
Neurodiversity
In February last year I heard a talk from Jean-Luc Sorak talk about Neurodiversity. This was part of a London Accessibility Meetup.
Jean-Luc told us that Neurodiversity is about the differences in each of our brains and minds. Neurodiversity represents a stance that our differences should be respected.
One in seven people are neurodivergent. This encompasses Dyslexia, Autism, Dyspraxia, Dyscalculia, ADHD, Obsessive Compulsive Disorder, Meares-Irlen syndrome and others.
Jean-Luc had the following tips for designing for neurodivergence:
Don't overload the user interface: keep your design simple
Segment content: blocks of text should be broken up to help people consume it. A neurodivergent audience cannot engage with large blocks of text
Reduce urgency: businesses will claim that time-pressured transactions are necessary. Using messages such as 'You have 10 minutes to complete this purchase'. Or using the colour red to add urgency and danger to not booking.
Tolerate errors: mistakes occur no matter how intuitive the design is. Give people the option to reverse the mistakes. Some people don't like talking on the phone. A good example of allowing correction is Gmail. Gmail allows users to undo the sending of a message. Amazon allows you to cancel an order before it's been dispatched.
Reduce motion: don't auto play your videos. Allow a user to choose if and when they want videos to be played.
Temporary, Situational and Permanent
The way we use devices, access content and engage with websites may differ depending on a number of situational, temporary or permanent factors. For example, using your phone with one hand while laden with shopping bags or being at a gig where there's lots of background noise.
Inclusive design benefits everyone. This includes temporary, situational and permanent disability. These are succinctly illustrated in Microsoft's Inclusive Design Toolkit.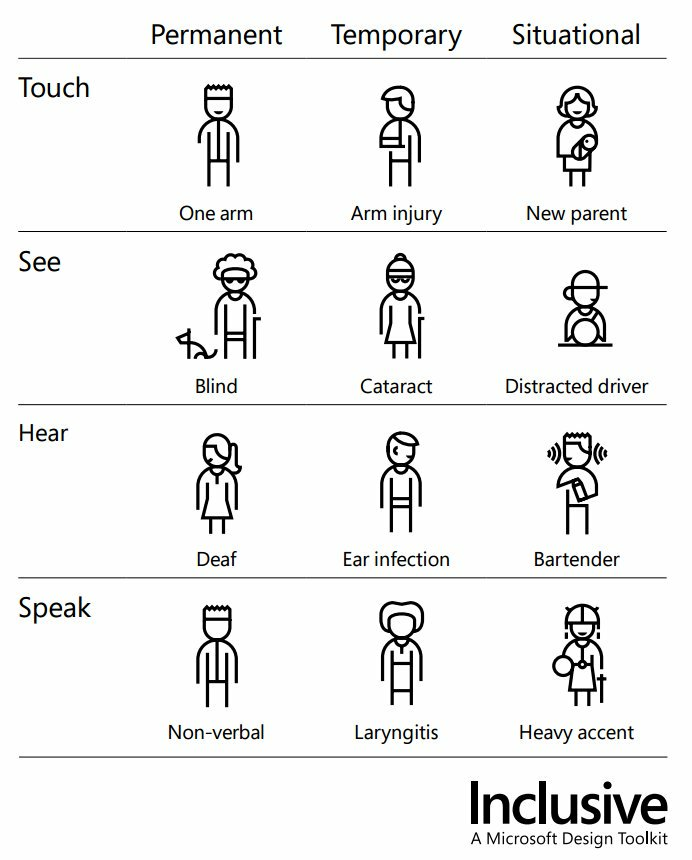 Why do I need to make my website accessible?
First and foremost, accessibility should be considered a necessity to avoid continued exclusion. However there is also a legal obligation - and if your country is of the litigious type, you could face significant financial penalties if non-compliant.
The legislation
Accessibility has recently been pushed up the agenda at many European organisations. This has been in part due to the Web Accessibility Directive for Public Bodies (2018).
This legislation was passed into UK law in 2018. It became enforceable for new websites on 23 September 2019. Existing websites had until 23 September 2020 to become compliant. The compliance date for mobile applications is 23 June 2021.
The Web Accessibility Directive (WAD) has had a significant positive impact on awareness. The need to create accessible websites and content. Both for public sector bodies and private companies.
Some of the WAD criteria were arguably already in effect. This is due to existing legislation within the Equality Act 2010. However, there is an interesting addition to this Directive. The UK Government Digital Service will now monitor and audit accessibility.
Monitoring will be done on a proactive basis. It will be achieved through a mix of automated and manual testing. Automated testing will be conducted on around 2000 sites a year, and an in depth audit will be completed on 100+ sites a year.
The Americans with Disabilities Act references WCAG as an accepted and required standard. It is expected that the Accessible Canada Act will also follow the internationally accepted WCAG standards.
The business case for accessibility
Making a website accessible does take time. Time in planning and maintaining. This costs money and should be budgeted for.
However, there is also a significant financial incentive. The purple pound refers to the spending power of disabled people. It is estimated to be worth £274 billion to the UK economy.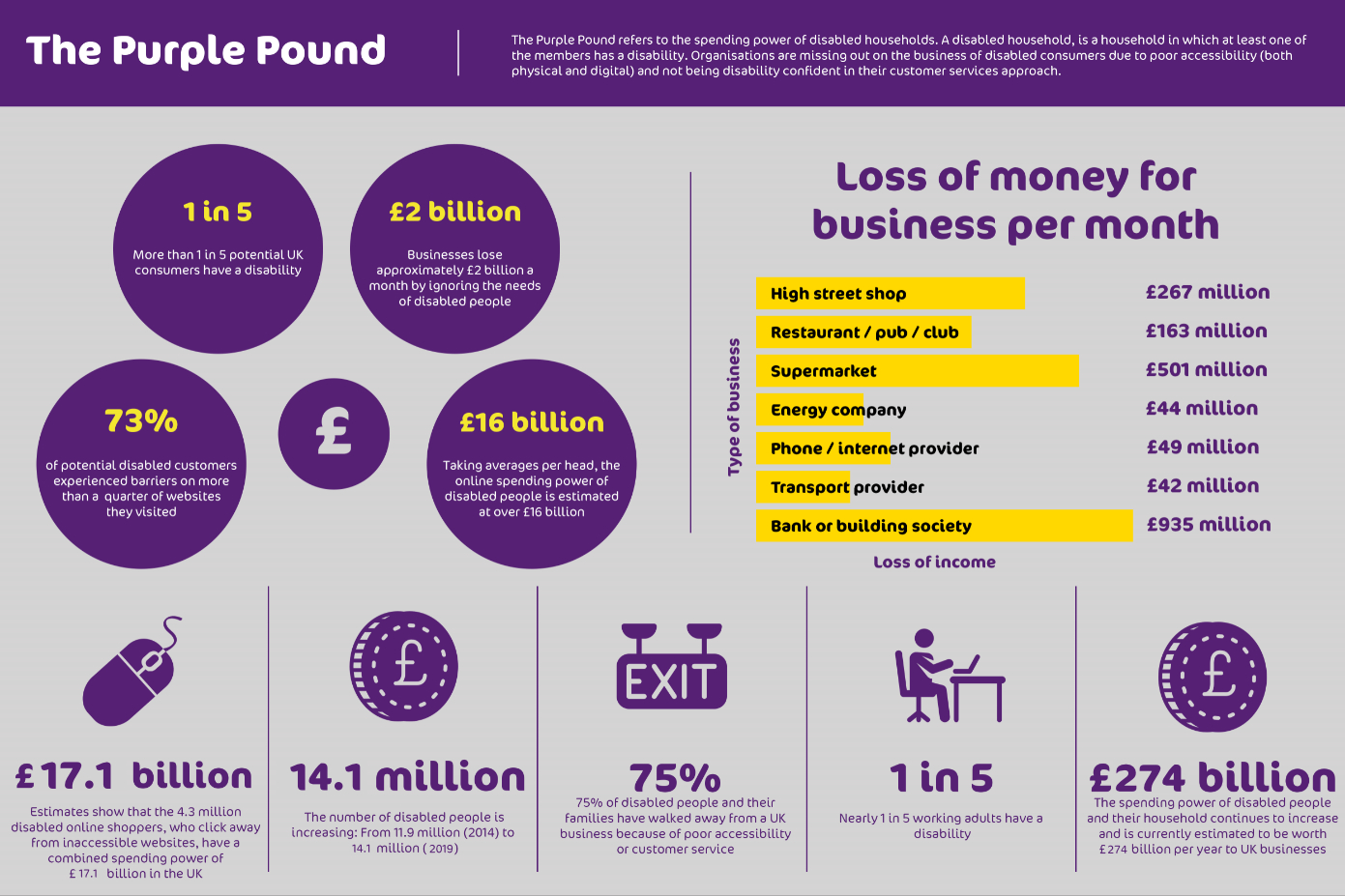 "Seventy-five percent of disabled people think businesses are losing out due to poor inclusive design"
Research conducted by Scope suggests that businesses are missing out. They also reported that disabled people are spending less (-25%) on entertainment, and would like to spend more.
The W3C web accessibility initiative has outlined the business case for accessibility. This includes the financial benefit as well as legal compliance. Minimising risk and being available to the widest possible audience.
How can I ensure my website is accessible?
Accessibility auditing and testing
There are a suite of tools that can be used to assess the level to which your website meets WCAG standards.
However, the guidelines and legislation is not exhaustive, and some of the WCAG standards are open to interpretation. Even if your website meets all the standards, you could still have usability issues. Because of this, we'd always recommend conducting an accessibility audit.
We also conduct user testing with disabled people and work alongside other specialist agencies that provide comprehensive accessibility auditing.
We would also always recommend conducting an observed usability study in addition to any automated tests.
Conclusion
You can probably tell that I'm in favour of the social model of disability. I believe it is just as applicable in the digital world. Everyone has a right to access digital content in the same way that everyone has the right to an education.
We have the capability to design and build accessible websites. We have the technology. We have the knowledge. We should be doing this as standard, not as an exception.
If you have made it this far, well done and thank you. I hope this article has been of use and interest. Here I've summarised some of the key points:
Accessibility and usability are not mutually exclusive. In fact, we see the two concepts as near synonymous. By consequence of making your website more accessible, you will be making it more usable
Being compliant with accessibility does not always mean that your website is easily usable. It is really important to test your website with people using assistive technologies
Accessibility and inclusion should be budgeted for
Accessibility and inclusion is everyone's responsibility
Accessibility and inclusion should be considered from the outset, not as an afterthought
It's important to note that Accessibility is not something that can be ticked off and left. You should continue to ensure your website is accessible as you continue to develop content
Accessibility is an extremely broad ranging topic. There is a lot of information available and many dedicated experts
If you have any questions or suggestions we would love to hear from you. Just get in touch: team@substrakt.com.
---
Resources and further reading
Articles, guides and accessibility resources for businesses, The Big Hack
Web Accessibility Initiative (WAI), W3C
The Business Case for Digital Accessibility, W3C
Accessible Content
Top tips for creating accessible, useful written content, AbilityNet
Standards for Writing Accessibly, Micheal J. Wetts, Andy Welfe
Writing for Web Accessibility, W3C
Tools
Resource type:
Articles
| Published: 2022